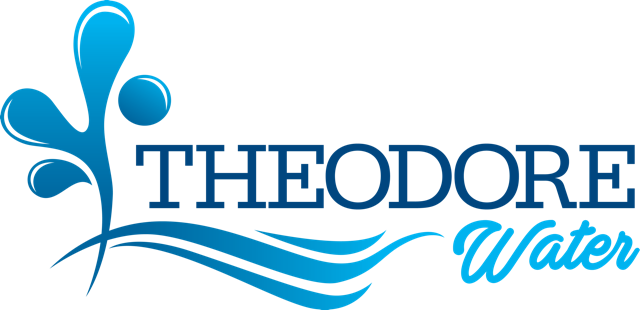 Dear Customers and Shareholders
Wecome to another edition of our newsletter. Plenty has been happening since our last post so I will attempt to keep it brief.
Bulk Offtake Meter Installations
You may recall, an element of our separation arrangements from Sunwater is the installation of Bulk Off take Meters compliant with the Australian Standard for Non-Urban water Metering (AS4747) at Gibber Gunyah, Theodore and the Fork pump stations. The supply and installation costs are being met by SunWater after which Theodore Water will assume ownership. The work was postponed from our peak irrigation periods and re-scheduled for March 2019.
In order to provide certainty of access times to the contractor engaged install the meters, we are scheduling the following dates in which we will make the pumps available to them. Please note, these dates may vary by one to two days depending on site specific issues. During these periods, supply will not be available to the respective areas.
Theodore Pump Station - 18th March until 21st March
Gibber Gunyah Pump Station - 22nd March until 26th March
Fork Farm Pump Station - 27th March until 29th March
If the have any queries regarding the above scheduled works, please contact your area operational staff. Your assistance in accommodating this notice is greatly appreciated.
Rationalisation Program
The first of several rationalisation proposals have been subjected to cost benefit analysis and subsequently approved by our Board of Directors to proceed.
1) A customer proposed a project that combines the retirement of 8 metered outlets and sub-lease of approximately 2 klm of drainage channel in exchange for 1 high capacity outlet. This project was first submitted to Sunwater in 2009. With clear benefits to all stakeholders, the project will now go ahead. The outcomes include the significant overall reduction in asset and maintenance costs to Theodore Water over the life of investment, while providing the customer with the ability to more efficiently and effectively manage their farming Enterprise.
2) Another customer sought approval to sub-lease a section of drainage channel approximately 1.6 klm in length. Again, this project showed a clear positive outcome for both Theodore Water and the customer with reduced maintenance costs for Theodore Water and increased flexibility for the customer in reusing and storing their off farm drainage water.
There remain several rationalisation proposals to evaluate and we are always on the lookout for more. If you have a proposal you wish considered, don't hesitate to give me a call and arrange a preliminary discussion.
Rural Irrigation Price Review 2020-24
A contingency of Theodore Water's Directors, Customers and myself attended the Stakeholder Consultation meeting conducted by the QCA on the 12th of February at the Theodore Hotel. The meeting provided us with an opportunity to put forward our concerns with Sunwater's proposed pricing pathway. Namely, these typically centered around the imposing costs of the Inspector General Emergency Management recommendations for improving flood forecast and warning systems, upgrades to dam costs, and demonstration of Sunwater's efficiency in managing the activities under its control. The Queensland Competition Authority (QCA) has pushed back the date for final submissions allow more time for considered responses. If you would like to find out more on this topic, please follow the link below.
Dawson Strategic Reserve Water
The DNRME visited town recently to discuss options for use of Dawson Valley Strategic Reserve water following amendments to the Water Act. The amendments allow DNRME to assign the Reserve for a maximum period of 3 years. Some 90,000 megalitres is potentially up for assignment once DNRME have determined the application and pricing mechanism under which to distribute the available quantity. Theodore Water supports making available this water, however we have raised concerns of the imminent impacts the harvesting and storage will have on our announced available allocation. Flood harvesting already has an impact on valley allocation usage which negatively effects the Resource Operating Plan formula for determining available allocation. We continue to work through our concerns with DNRME and Sunwater.
Allocation Status
Medium A Priority allocation moved up to 75% reducing pressure on many of our farmers. The announcement followed re-assessment by SunWater mid January as a result of reasonable rainfall increasing the storage level at Gyranda. Gyranda has since dropped 4 metres making short term increases unlikely.
January Year to Date - Distribution Performance
Assessed performance for the end of January remains very pleasing. As at the 31st YTD River Diversions = 9038, Sales = 8344, Losses = 694, Efficiency = 92%. Please note* Adjustment for operating outlets is required to determine accurate efficiency and sales.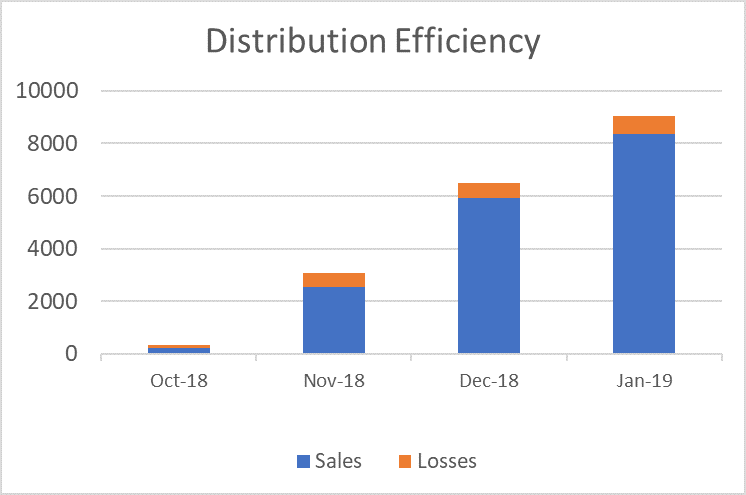 Energy Consumption
Electricity remains a significant input cost for Theodore Water. The below table demonstrates the energy consumption efficiency difference between Theodore and Gibber Gunyah pump stations. The Fork Farm pump station is on a different tariff arrangement and is billed quarterly. Valid detail is not yet available to include in this report. Importantly, the new tariff structure to be introduced in 2020 has potential to impact significantly on our price of delivery. We will be working closely with Queensland Farmers Federation over the next few years in order to best position ourselves for the pending change that could see our energy bill double.
Energy Costs for the season so far:-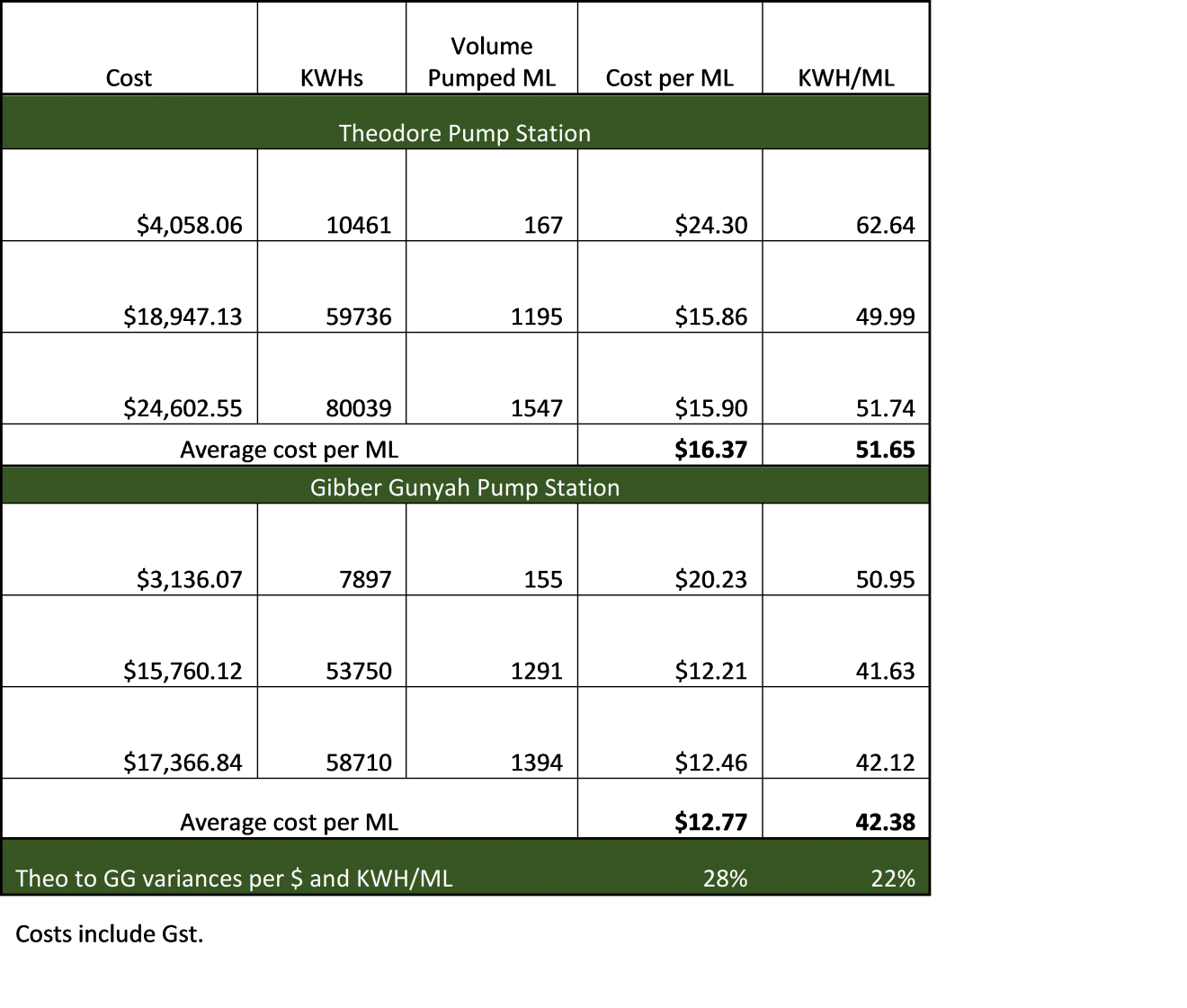 New Backhoe
You may have noticed a bright new backhoe on the scene in recent days. Theodore Water has traded the unreliable Fermec for a JCB 3CX with extendable stick option on the backhoe. Already put to good use with the extra reach, allowing the completion of rock stabilisation around the D Channel Siphon, a job that would have previously required a contractor to undertake. With the more versatile JCB 3CX at our disposal, we expect an increase in productivity and utilisation in coming years.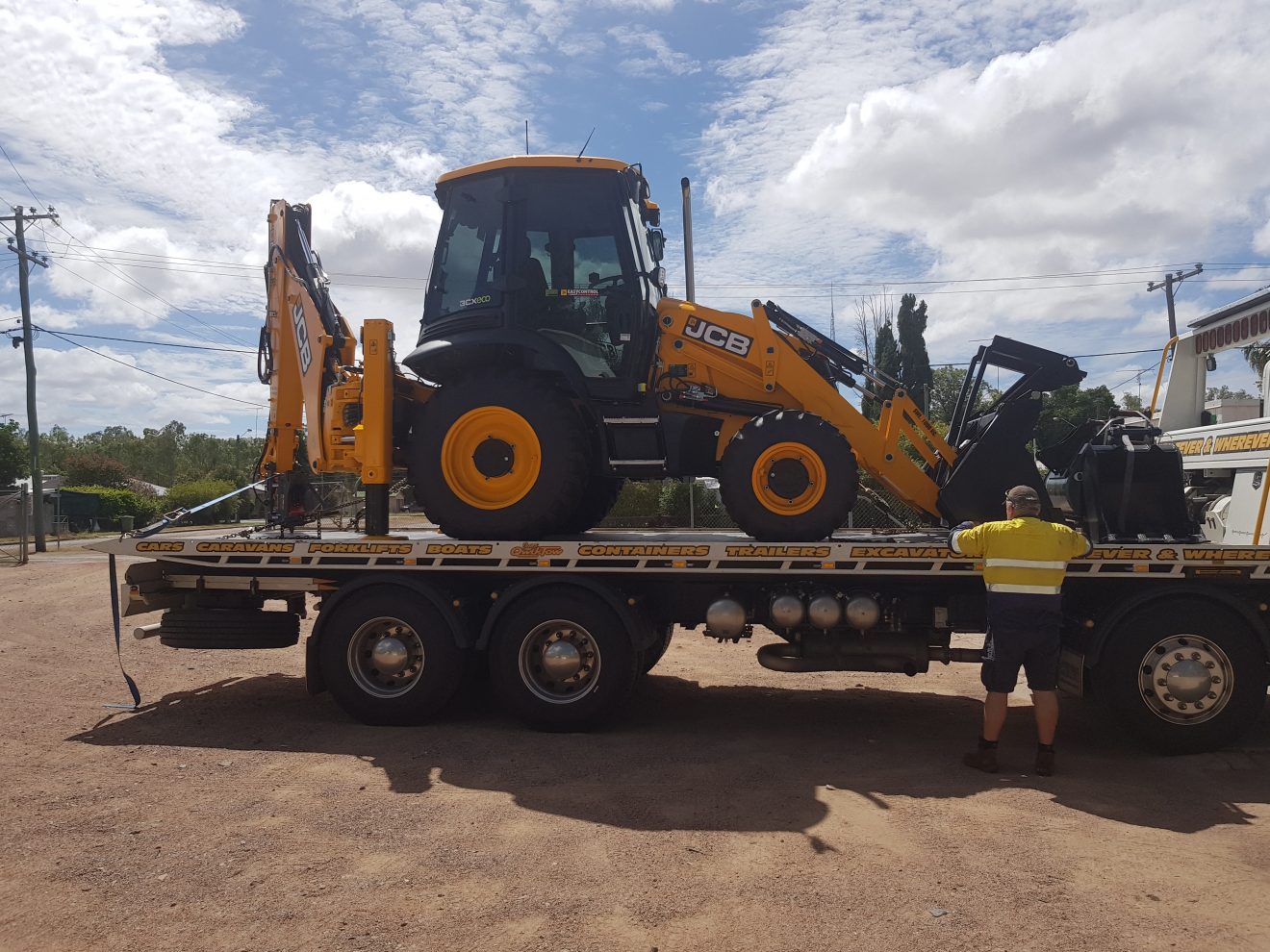 Newly constructed Channel D Siphon showing erosion around the headwalls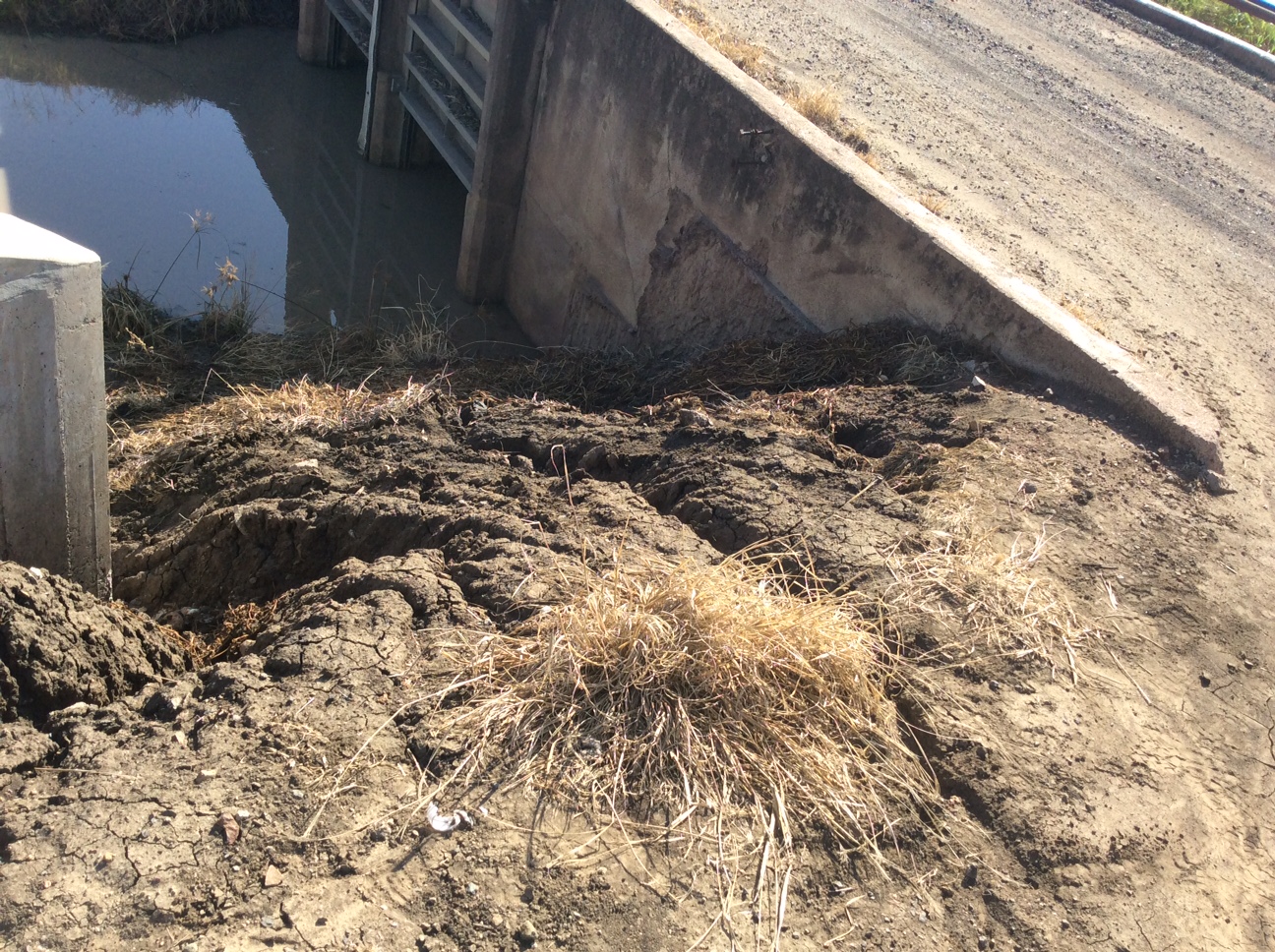 Channel D Siphon erosion secured.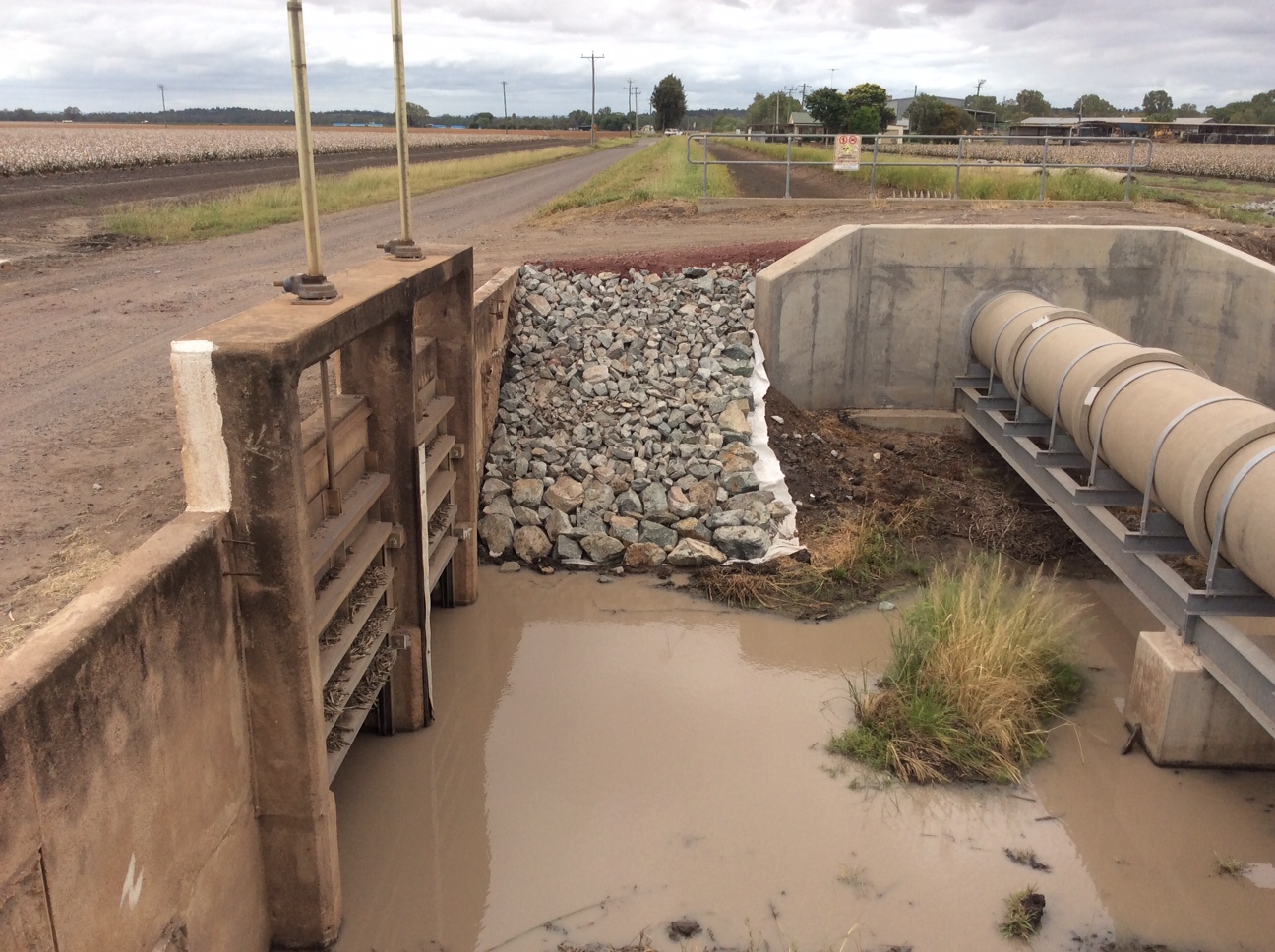 Townsville Floods
The Theodore community knows all too well the devastating impact flood events can have on our lives and businesses. As such, Theodore Water is very proud of team member, Tim Stevens who, as a member of our local SES, volunteered and took annual leave to assist with the clean up over a period of 5 days last week. In recognition of Tim's community spirit, the Board have endorsed supporting Tim and the Townsville effort, by reimbursing his leave. Well done Tim.